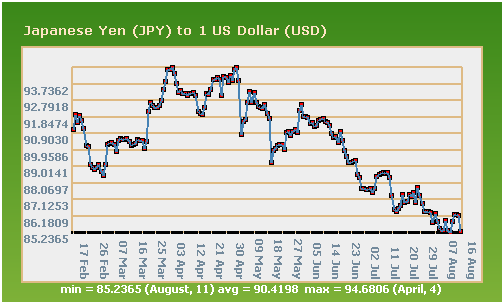 The rumors of Yen's demise as a safe haven are greatly exaggerated. Events of the last four weeks have again confirmed Yen's status as a safe haven in times of risk. What does that have to say about NYMEX crude oil futures.
Yen's trade surplus with other currencies frees Japan from the need of overseas capital and hence any currency depreciation risk. Yen's rise is generally inversely correlated with commodity currencies such as the Australian dollar and in the current context is especially bearish factor for crude oil. The world's rush to a safe haven does not bode well for growth in the next two quarters, oil or distillate demand and crude oil price outlook. After slogging the dollar out of the park, Yen touched 109.32 Yen to a Euro yesterday in Tokyo.
Weaker than expected release of July housing starts (Tuesday) and July industrial production and capacity utilization (Tuesday) data later today will most like lead to a further rise in Yen and possibly push NYMEX crude oil future contracts below the 74 US dollars a barrel threshold they have been holding up for the past few days.