Dollar spikes and commodities tumble as China raises interest rates

China increased its interest rates for the first time since 2007, aimed at curbing the rising inflation rate. The effect of this has been a sudden change in the market. The move helped in supporting the weak USD. At 0402 GMT, USD was trading at $1.3773/Euro, which is a remarkable recovery considering that it was trading well over 1.4 at one point on Monday. Following are the changes in USD-EUR exchange rate from yesterday.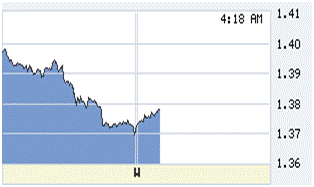 The effects of this recovery by USD have been significant in the oil and gold markets. Crude oil for November delivery fell $3.59 to close at $79.49/barrel in the NYMEX. At 0343 GMT, it was trading at $80.11/barrel. The increase in the interest rates by China has made it clear that there will be less demand for oil in the second biggest market for oil in the near future and this has also helped in decreasing oil prices.
The weekly US petroleum status report will be released today and it is anticipated that it will show an increase in the US inventory levels, which would drop oil prices further tomorrow. Following are the price movements in the oil futures during the trading session.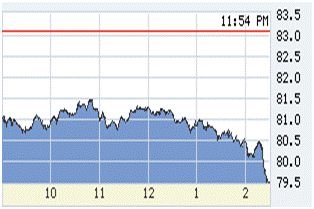 Gold saw the biggest decrease in its price. Gold for December delivery fell from $1,372.10 to 1,336.00. At 0345 GMT, it was trading at $1,377.70. Significant strengthening of the USD helped in bringing down gold price. Following are the gold price movements during the trading session yesterday.