(Analyst Note: Once again a dated note but with very relevant product, consumption and trends data)
The spot price of West Texas Intermediate (WTI) crude oil remained in the neighborhood of $70 / bbl through most of June peaking at $72.69 / bbl. World oil consumption compared with the prior year was down an average of 3.0 million bbl / day from Q4′ 2008 through Q2′ 2009. According to the ElA, however, the consumption decline rate for the remainder of 2009 is expected to moderate due to expectation of a gradual global economic recovery. Current EIA forecast reflects higher expected oil consumption in Asia led by China and other emerging-market states, with global oil consumption projected to grow by 0.9 million bbl/d in 2010 in response to expected positive global economic growth.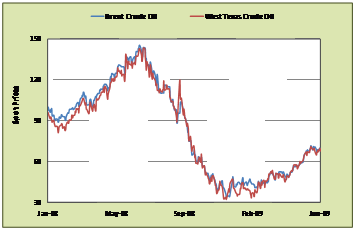 Organization of the Petroleum Exporting Countries (OPEC) crude oil production is estimated to be 28.6 million bbl / day in the second quarter of 2009, down slightly from first quarter levels, but down 3.1 million bbl / day from the third quarter of 2008. OPEC crude output is expected to remain near current levels through the end of the year, trending upward moderately in 2010 in response to higher demand. Substantial surplus production capacity, located mostly in Saudi Arabia, should help moderate upward price pressure until higher demand begins to erode the global supply cushion. Total non-OPEC supply is expected to rise by 360,000 bbl / day in 2009 and to remain fairly flat in 2010. Over the forecast period, higher output from Brazil, the United States, Azerbaijan, and Kazakhstan is expected to offset falling production in Mexico, the North Sea, and Russia.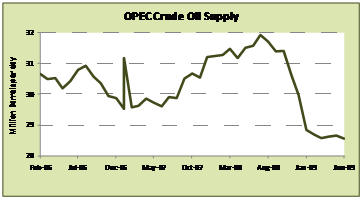 OPEC Secretary-General Abdullah al-Badri recently stated that oil prices – at present trading in the neighborhood of $60 / bbl– were below the level the producer group wants. While OPEC indicated its acceptance of lower prices to help the economy recover, at its May meeting the group said oil at around $75 a barrel could be achieved this year and the world was ready to cope. OPEC is expected to decide on the crude production ceiling in September. OPEC has repeatedly said prices of around $75-$80 / bbl are needed to secure investment in new oil supplies for the long term.
US Gasoline prices

The average price for US regular-grade was noted to be $2.64 / gallon at the end of June. According to the EIA, US gasoline prices are expected to stay near current levels but will be strongly influenced by any changes in crude oil prices. EIA expects annual average regular-grade gasoline retail price in 2009 to be $2.36 per gallon. Higher projected crude oil prices next year are expected to boost the average price to $2.69 per gallon in 2010. Annual average diesel fuel retail prices are expected to be $2.46 and $2.79 per gallon in 2009 and 2010, respectively.